Steampunk
The steampunk collection has been studied in order to establish a link with the fashion trends of the moment, nationally but also and above all internationally, in various fields of application: from objects to small furnishing accessories, from jewellery to fashion.
In addition, the design project includes an assorted line of gadgets of Victorian inspiration and nineteenth-century matrix, revisited in a modern way with the use of not only artisanal but also highly technological applications, through the study of specific apps and the use of new technologies.
The past, present and future come together in a series of highly innovative and unique products.
Steampunk project
The project Steampunk objects is divided into 3 different sectors, all connected by characters and objects representative of the imagination and literature Steampunk, but it is above all the research in the style that can make them unique compared to other objects in the theme.
In our case, in addition to technological references typical of steampunk, our collections draw inspiration above all (but not only) from the Victorian style also with regard to the way of communicating that today may seem "exaggerated" or grotesque (advertising of the time) of what was the first industrial era.
The starting idea is a brochure designed specifically for the entire collection, in which each object has its own fantastic story narrated by characters drawn in a comic key.
Each object therefore has its own packaging (or simple label), in line with the designs and style of the brochure.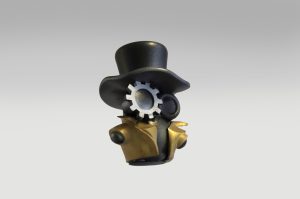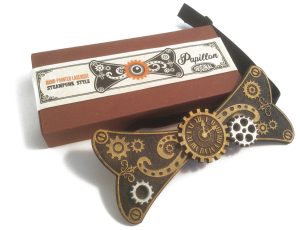 Sector of objects 1
Objects created in MDF wood, engraved and laser cut, hand-painted or printed with UV printer, glued and finished with vinyl paints with "aged" effect.
USB flash drive and its storage box
Various jewelery objects
Table clock
Game consolle
Objects that can be used as decorations for PC monitors
3D objects
Accessories applicable to joystick and console
Wearables (bow tie – jewellery)
A series of "action figures" (figurines) made to order in various materials
Same series of "action figures" already printed and finished (colored) by hand
Cosplay